​Come one, come all! Lets celebrate 2018 with the grand re-opening of the Poinsettia Pavilion. Ventura Poinsettia Dance Club is back in business as of Monday, January 15, 2018.


Spread the word to those who are not on our email list. Bring friends. We are so lucky that our beautiful Poinsettia Pavilion was saved from the Thomas fire. Let's raise the roof with joy and have a great welcome back turn out.

Remember to sign up for 2018 membership. It's only $15 and you get a discount admission from $12 to $10 when you are a member.

Our regular start time is 7:30pm and dance instructor Michael Donovan will hold lessons at 6:45pm at $3 single and $5 couple.
12/14/17 Poinsettia Dance Club: Rick Petersen (President), Ron Perkovich (Past President) helping out with club supplies at tempoaray Crisis Center.
Swingin' Holiday Big Band Dance
Free Dance Lessons with Michael Donovan in the month of September!
Mondays 6:45pm to 7:15pm
​You are invited!
Join us for a special performance of Argentine Tango by Janet Crane & Brad Wyatt
December 19, 2016 at 8:30 p.m.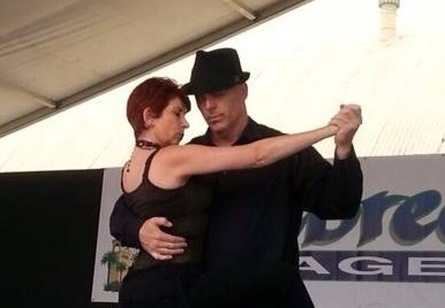 Tango in the House! Janet Crane & Brad Wyatt perform Toca Tango.